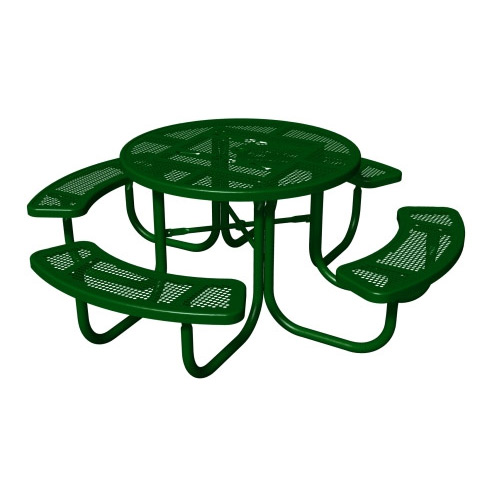 Chow Hound Table
Dimensions: 30 3/16″H x 82 1/4″W
Seat Height: 18 1/16″
Lead Time
:
3-4 weeks
Chow Hound Table
As part of our Dog Park Equipment accessories we're pleased to feature this laser cut dog themed picnic table. Detailed to coordinate with your dog park play components. This table is thermoplastic coated for superior durability and beauty. Choose green or blue planks with black frames to coordinate with your personal aesthetic needs.
Top & Seats: 11 gauge die formed angle frame 1"x1-7/8" with 3" radius on the seat corners. A 12 gauge piece of sheet steel is precision punched with a 5/8" hole to create the punched hole pattern. The understructure/attachment plates are fabricated from 7 gauge x 1-1/2" flat bar. Top is additionally supported to the outer frame with 7 gauge x 1-1/2" flat bar. Electrically MIG welded.
Coating:: Oven fused functionalized polyethylene copolymer-based thermoplastic. Fluidized bed coating application with superior mechanical performance, impact resistance and UV-stability.
Frame: 1-5/8" O.D. x 14 gauge pre-galvanized structural steel tubing. Brace attachment points are 1-1/2"x2"x3/16" steel flat bar. Cross braces 1.029 O.D. x 15 gauge pre-galvanized structural steel tubing. Top is attached with 7 gauge 2"x2" die formed angle. Seat mounting points are 7 gauge x 1-1/2" die stamped steel flat bar. Legs are bent over a mandrel through the bend radius producing a wrinkle free bend. All electrically MIG welded.
Frame Coating: Electrostatic powder coated application oven cured.
Hardware: All stainless steel hardware fasteners.
Dimensions: Top is 46-1/8" round x 30" high. Seats are 12-1/8" wide x 40-1/8" long x 18" high. Outside to outside dimensions of 4 seat table is 82" x 82".
Only logged in customers who have purchased this product may leave a review.
Please Note: If your item is listed as "Custom Shipping", shipping will be charged separately. If you have placed an order via our shopping cart service, you will be contacted with a custom shipping quote before your card is charged for the product cost. Freight shipping cost is determined by delivery address. Additional charges may be incurred for delivery to churches or residential areas as well as any additional services requested.
If you would like to obtain a shipping quote or place an order: please contact one of our friendly representatives at 877-857-2915 or email customer service at contact@terraboundsolutions.com.
Warranty:
TerraBound Solutions warrants to the owner that this product shall be free from defects in material and workmanship under normal use for a period of one (1) year, provided they are installed per provided installation instructions and that component parts supplied are used.
TerraBound Solutions' obligation under this warranty shall be limited to repair and exchange of any such item, which may prove defective under normal use (vandalism and premeditated damage excluded) during such period. Warranty period begins at final acceptance by owner.
Freight/Shipping Claims:
Damages and shortages must be identified upon product delivery with freight driver. A customer and freight carrier signed copy of the delivery report should be faxed to the sales support team immediately.