Camper Waste Receptacle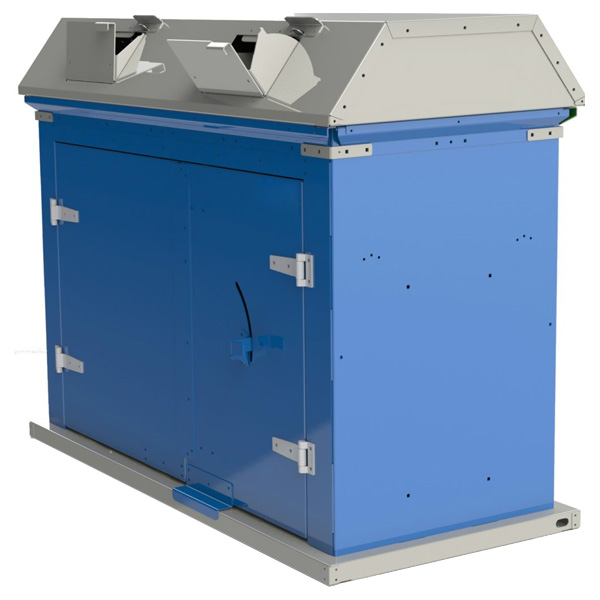 Price: $2,116.00
SKU: 46-camperwastereceptacle
Product Page: https://www.terraboundsolutions.com/product/camper-waste-receptacle/
Product Summary
Dimensions: 57"W x 28"D x 43"H
Weight: 280 lbs.
Product Description
UNBEARABLY STRONG, INNOVATIVE AND SMART DESIGN
The Camper Waste Receptacle is a dual stream, double door, waste receptacle capable of keeping out almost any form of wildlife without causing injury. Available with either "mailbox" style chutes, that are designed to be accessibility compliant or with top lid access. Designed to be used with two inner containers to hold the waste bags.
The "mailbox" style chutes are 10″ wide x 6″ high, they close safely by gravity, and secured by a finger release lever that is designed to be accessible for almost all users, yet inaccessible to bears and other wildlife. The small chute sizes limits waste to just picnic trash, and prevents abuse from those who bring outside waste sources to public parks. An inner hopper is built in to direct waste to the inner container inside of the bin, which minimizes deflection.
The Camper Waste Receptacle's top lid option comes stock with 10" diameter chute holes that are lined up over the inner containers. The 10" holes limits the size of the waste being disposed of to only "small trash" to limit people from bringing their home trash to a park environment.
This Camper Waste Receptacle 1 can be used for two streams of garbage and/or recycling, and/or organics, or even pet waste. We can provide labelling to identify the stream of waste that should be put into the bin.
Available in Moss Green/Charcoal, Brown/Charcoal, Blue/Charcoal, Beige/Charcoal or all Charcoal.
Product Attributes
Dimensions: N/A
Weight: 280 lbs