This page was exported from TerraBound Solutions Inc. [ https://www.terraboundsolutions.com ]
Export date: Sat Dec 3 19:17:56 2022 / +0000 GMT



Big Blue 55 Gallon Rain Barrel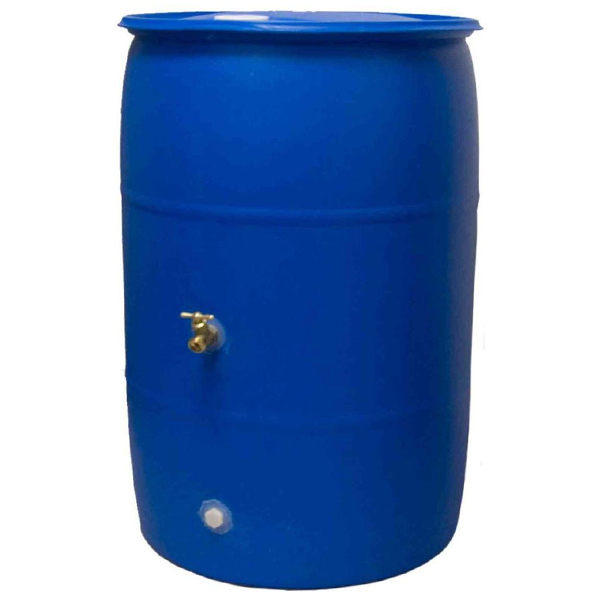 Price: $229.00
SKU: 65-RB55-BLUE
Product Page: https://www.terraboundsolutions.com/product/big-blue-55-gallon-rain-barrel/
Product Summary
Includes: (1) Brass spigot, (1) 55 Gallons Rain Barrel, (1) Teflon Tape, (1) 3/4" NPT plug
Capacity: 55 Gallons
Dimensions: 35" x 23" x 23"
Weight: 19 lbs.
Color: Blue
Product Description
Collecting rainwater with this 55 gallon rain barrel comes in two pieces with an easy to remove lid for cleaning, and provide that precious water you need to help protect your lawn and garden during periods of drought, and it will also help you save money! The Big Blue 55 Gallon Rain Barrel feature a recycled, food-grade barrel that's been saved from the landfills and is ready to help you save on your spending. Included with this rain barrel is the offset spigot made from brass for hose hook up that can be linked to other container for extra rainwater storage. The large opening which can be used for 2x3 or 3x4 downspouts is covered with a soft, fine mesh, plastic screen help keeps out heavy debris, insects, animals, minimizes hose blockages, and keeps your rain water pure for your piece of mind. The Big Blue 55 Gallon Rain Barrel will pay for itself in just a few seasons.
Features:
Resistant to rust, mold, mildew, and rotting
Brass spigot for hose hook-up or dual overflow
Screen to keep out debris and insects
Child and pet safe
Food grade barrel
Two optional locations for spigot placement. Change them anytime you want.
Blue color reduces algae significantly
55+ gallon capacity
Made in the USA
Product Attributes
Dimensions: 28 × 22 × 22 in
Weight: 21 lbs
Product export as MS Document by WooCommerce PDF & Print plugin.