Dog waste stations are self service kiosks that offer pet owners the means to clean up after their pets in public areas. They are a great addition to dog and human parks, neighborhoods, apartment complexes, hotels, nature trails, veterinary clinics, beaches, pet friendly restaurants, groomers, doggy day care, and much more! Our stations typically feature bag dispensers, a receptacle for the disposal of poop, signage, liner bags, and dog waste bags. These systems are designed to be easy to use, easy to stock with bags, and durable enough to last for years. They make a perfect solution for dealing with public space and dog poop by promoting personal responsibility with dog owners. All of these stations help to improve the environment by keeping pet poop contained. This means that public spaces can remain usable and clean for all to enjoy, pets and humans alike! It also means that sprinkler systems, and rains will not wash dog poop into the storm drains where it can cause an environmental impact. Here's a look at some of our best Pet Waste Stations. TerraBound Solutions ships within 24 hours and provide free ground shipping within the continental United States.
Complete Pet Waste Stations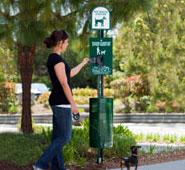 The Sentry Dog Waste Station is available in black or green and is our most popular model! This unit comes with a very readable sign with instructions on the bag dispenser that are easy to read and follow as well. Choose between a roll bag dispenser or a pull bag dispenser. People often ask the difference between roll bags and pull bags and we like to use this simple comparison. Single pull dispensers work much like a tissue box—one at a time. Roll style bag dispensers function like a toilet paper roll. You have to tear off the bag at its perforated dividing line between the next bag. This station also comes with a perforated, powder coated waste receptacle that holds ten gallons of used bags. This is an important feature because it helps to keep dog poop out of the regular garbage receptacle. A post is included for easy in-ground install.
TerraBound Dog Waste Station is our second most popular seller with many of the same features as the Sentry but a bit more economic is price. Like the Sentry it includes a post, sign, waste can, and bag dispenser that can be either single pull or roll bag style BUT it is only available in green. The bag dispensers also contain easy to follow instructions. This unit includes a receptacle container that holds 11 gallons of debris and is lidded which is added value because it helps to keep animals, insects, and other pests out of the system. Differs from the Sentry station by a larger rectangular receptacle with a lid.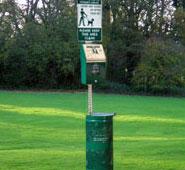 Dogipot Pet Station has three unit styles but the most popular is the Polyethylene constructed unit. It contains a polyethylene bag dispenser, waste receptacle, a reflective aluminum sign, and features a two role bag dispensing system. Come with assembly material, two rolls of 200 OXO biodegradable poop waste bags, and one 50 count box of receptacle bags. The post is telescoping for easy fit into all areas. This is a practical and economical option for adding a full station to your park or community.
Dogipot Pet Station features a Steel or Aluminum construction. They too feature a reflective sign, bag dispenser, post, and receptacle. This is a complete system that can be installed in low traffic areas or areas where vandalism is likely to occur. This is a tough system made to last for years. The dispenser handles two roles of OXO biodegradable bags. It features a telescoping post with extension range of 4-8 feet. Includes all assembly materials.
The Gladiator Dog Waste Station is a secure pet waste system featuring a larger, locking receptacle. This is a system that is designed to prevent odors. It features a chute system that is fully sealed which helps to keep odors in and insects, vandals, and other pests out. It can be equipped with a Single Pull or Bag Roll dispenser for easy integration into an existing system. Additional components include a galvanized square post that is 7 feet tall, a reflective sign, installation hardware, 400 poop waste bags, and a box of 50 dog waste receptacle bags. Available in Black or Green. Secure, reduced odors, and reduced pests. A perfect station to install where there is high foot traffic and multi-use locations.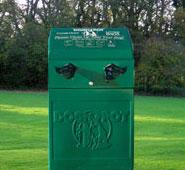 Dogipot Polyethylene Dog Valet is a complete station. It sits on a 4 ft galvanized square shaped post. This is a free standing unit that is available in Forest Green or Beige. This station uses OXO biodegradable bags and features a drop system not to usher bagged poop into the pet waste receptacle, it also prevents odors. It features a lockable lid that lifts up to expose the receptacle. The bag dispenser is designed for roll bags and features two easy to use front bag dispenser units. Comes with 400 OXO biodegradable bags, a box 50 count box of receptacle liners.
Our complete pet waste stations help keep the outdoors eco-friendly, clean, and enjoyable for all walks of life. They also help to reduce damage to the environment. Keep dog poop out of the environment by installing a complete waste system in your parks today. TerraBound also features smaller units and components if you do not desire an entire station or already have certain elements. Our selection of pet waste bags also fits most poop bag dispensers.
Looking to complete your dog park with dog playground equipment, doggie themed park benches, picnic tables, and more? We have it all!