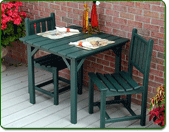 Warranty:
Polywood products maintain a warranty for a period of five years of residential use or one year for commercial use starting from the date of purchase. This warranty covers any defects in the manufacturing and workmanship of the furniture components. TerraBound Solutions shall not be liable for any failure, defect or damage resulting from improper use or natural occurrence.

Freight Claims:
Damages and shortages must be identified upon product delivery with freight driver. A customer and freight carrier signed copy of the delivery report should be faxed to the sales support team immediately.




SKU: TGD100
List Price: $245
Sale Price: $189/ea.

You Save $56 (23%)

Free Ground Shipping within continental US!
5-10 business day lead time

877.857.2915

Each cart item represents 2 chairs

This Traditional Dining Chair is designed to perfectly accentuate your flower garden or complete your patio experience with its classic design.

Constructed from HDPE (High Density Polyethylene)
Over 90% recycled materials
Contains UV-inhibited pigment systems that reduces fading
You might also be interested in these products.